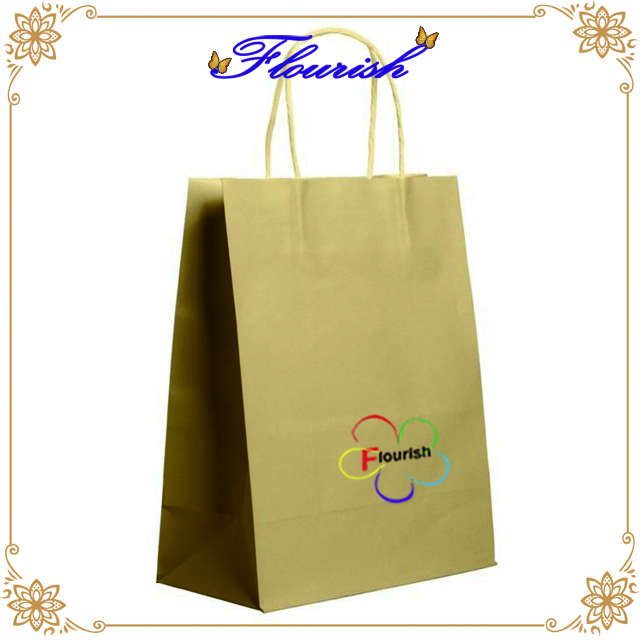 Paper bags are widely known for its economical and recyclable quality. And nowadays more and more companies start to recognize its advertising advantages. Therefore, paper bags are used for packaging, gift exchanging, and marketing as well. For example, paper bags can be used as shopping bag, clothes packaging bag, shoes packaging bag, food packaging bag, cosmetic bag, grocery bag, flower bag, jewelry gift bag, and brochure giveaway bags. Paper bags are usually made of cardboard, coated paper, kraft paper and art paper, etc. And they are friendly to printing, laminating, hot stamping and handling.
Among the most popular materials for paper bag making, cardboard paper often comes in 210GSM, 230GSM, 250GSM and 300GSM. And matte lamination would make better quality for cardboard paper bags.
Coated paper is often used to make gift bags because of its printing compatibility, and often comes in 128GSM, 157GSM, 200GSM, and 250GSM. The designing effect could be perfectly shown on the coated paper. After lamination, the coated paper bags could be more delicate and attractive. Therefore, many gift bags are made of coated paper, for example, birthday gift bags, wedding gift bags, and party gift bags, etc.
Eco-friendly kraft paper with high strength and low cost is a very good choice for packaging, coming in 60GSM, 70GSM, 80GSM, 100GSM and 120GSM. And it is often used in fast food packaging industry these days as the green and recyclable economy is a prevailing trend. And we can often see cookie packaging bags and bakery bags made of kraft paper as well.
We have various kinds of art paper with vivid images and quality textures for you to choose from. And our designing team is always here to help you with professional advice. No matter it is for gift packaging, or company advertising, you would get the best custom packaging bags here.
There are many kinds of paper handles for options too. For example, there are cotton handles, ribbon handles, paper handles and nylon handles to match different types of paper bags. We can recommend the best handling method according to different usage of the paper bags and the bag materials.
With more than 30 years' experience in paper packaging industry, we are confident to deliver every tiny idea from our customers to a successful artwork with deep understanding of customers' concern. And our professional team can provide online service to help solve customers' concern promptly and effectively. And strict quality control has made us a successful partner of thousands of customers all over the world.
Contact us now.